Department of Veterans Affairs Benefits
Veterans who served honorably may be entitled to various benefits administered through the Department of Veterans Affairs. Our CVSOs will assist with the preparation of formal claims for benefits on behalf of veterans and eligible family members.
"Veteran" is defined as an individual who served active duty in one of the military branches. This includes members of the National Guard and Reserves who were activated under Title 10 of the United States Code. To determine eligibility, the DD 214 is the official document.
Some of these benefits are:
Medical Care
Available to most veterans through the VA clinic and medical center system.
This is not a medical plan – it is a medical system in which the veteran enrolls, and then receives treatment.
Service connected compensation
A monthly payment awarded to those veterans who have incurred injury or disease, with lasting effect, during their military service. Ratings are determined based on the degree of disability, but only after the veteran has filed a formal claim for benefits with the Department of Veterans Affairs. Ratings can be from 0% to 100%, and ratings of 30% or higher entitle the veteran additional monthly payments for dependents. In addition, other benefits may be obtained as the basic compensation rating goes higher. Free medical care is provided by the VA for service connected disabilities regardless of the rating.
Non-service connected pension
An income based program available to wartime veterans. The maximum rate is set by Congress, and all gross income is considered when assessing the individual eligibility. However, VA will allow income reduction through the use of out of pocket medical expenses. Additional amounts may be paid for eligible dependents.
Education benefits
These benefits vary depending upon the period and length of service. There are numerous educational programs, including the Post-911 GI Bill, the Montgomery GI Bill, and the Vocational Rehabilitation program.
Insurance benefits
Available to service connected veterans once a service connected rating has been determined.
Burial benefits
Payable to veterans who are receiving VA compensation or pension payments at the time of death. All veterans whose service was honorable are entitled to a VA grave marker and a burial flag, with military honors at their funeral or service. If desired, a VA medallion that can be affixed to a monument may be issued rather than a standard grave marker.
Home loan
Guaranty certificates are available to most veterans. This is not a loan, but a guarantee for a certain percentage of the mortgage loan.
Family Member Benefits
Death pension
An income based program available to surviving spouses and/or minor children of wartime veterans. Rules are essentially the same as for non-service connected pension, but rates are much different.
Dependency Indemnity Compensation (DIC)
Payable to the surviving spouse and/or minor children of veterans whose death has been adjudicated by VA as being "service connected". Along with monthly payments, eligible survivors may receive health care coverage through CHAMPVA, and education benefits under Chapter 35, Dependents Educational Assistance.
Other Benefits
Surviving family members may be eligible for other benefits such as education, medical coverage, home loans, and other benefits. This varies case by case, and is determined by the VA.
Financial Assistance
Title 59, Ohio Revised Code, requires each County Veterans Service Commission to establish and administer a financial assistance program. As such, each county develops its own policies and guidelines regarding financial assistance and is NOT bound by the policies of any other county.
In Darke County, you may be eligible for assistance with the basic necessities of life such as:
Rent or Mortgage Payments
Utility Payments
Food Assistance
The Commission has developed a set of guidelines that is applied to every eligible applicant. It is applied across the board, and exceptions to policy are made ONLY when the Commission determines that the individual situation warrants such an exception.
This program is for temporary, emergency financial assistance. It is not a long term program.
Every applicant for financial assistance is required to complete a formal application and provide a complete financial disclosure for all members of his/her household. Failure to provide all required information will result in denial of the application.
Financial assistance applications are taken on an appointment basis only. A checklist of required documents can be picked up during normal business hours prior to scheduling an appointment.
Transportation
We Transport To:
Dayton VA Medical Center
Cincinnati VA Medical Center
Appointment Times
Must be between these hours:
Dayton VA: 9:00am – 3:00pm
Cincinnati VA: 10:00am – 2:00pm
Monday through Friday
(No Transportation on Holidays)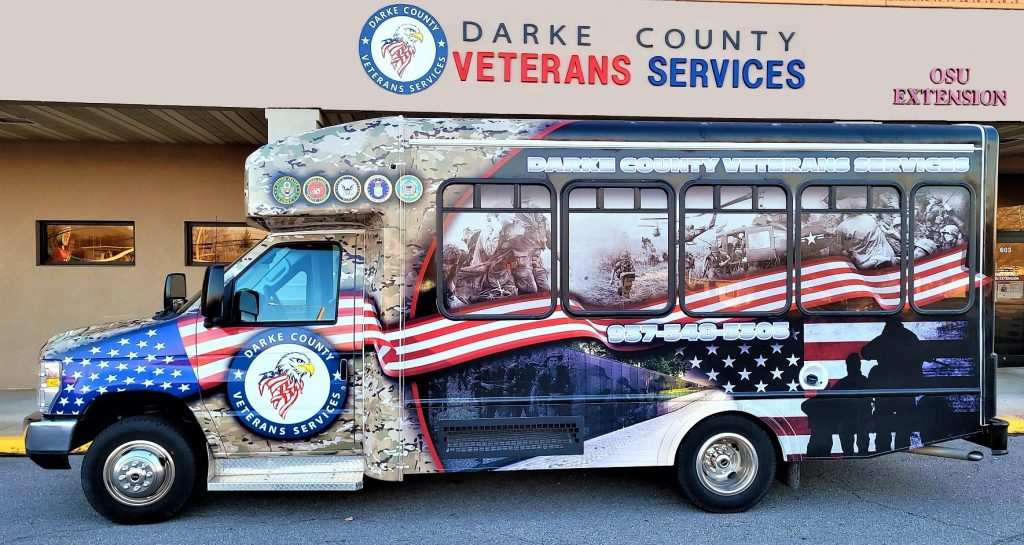 For Transportation to Dayton or Cincinnati VA Medical Centers
Call Jack at (937) 423-8390
Call no later than noon the business day before your appointment. He will call you with a pick up time the business day prior to your appointment between 1:00 pm and 3:00 pm